June 10th, 2013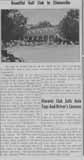 I arrange material on this web site roughly in chronological order; information about earlier events is at the top, and more recent history is at the end of this web site. For your ease in locating new material, I'm listing fresh content and any changed entries in the "Recent Postings" category.
This month (in honor of the recent Memorial Golf Tournament) I'm featuring some golf memories.
Note: the New Posts link often contains more than one screenful of entries–so be sure to click "older entries" at the bottom of that page to see more new posts! And please be aware that because I interlace new postings in their historical order–because I fudge the dates on entries–RSS feeds don't work with this site. (They will only pick up entries with a current date.)
Changed posts–If and when I revise or add to a posting, you can find it here.
Events Page–Consider coming to a presentation, buying a copy of Clintonville & Beechwold, and getting it signed by the author! I also include events of the Clintonville Historical Society