October 31st, 2008
Thomas Bull's daughter Chloe came to the area with her husband Isaac Brevoort and son Henry around 1812. Isaac Brevoort was helping build a barn across the Olentangy River and was crossing the flood-swollen river in February 1814 when his boat was swamped and he drowned. He was 23 years old, and was buried just 100 yards from the river. That grave is now someone's back yard. Some say the grave is behind 247 Kenworth; some sources say it's behind 253 Kenworth; some sources say that Isaac Brevoort is buried behind 253, and Thomas Bull Senior (father of Thomas Bull Junior) is behind either 247, or 253, or 257.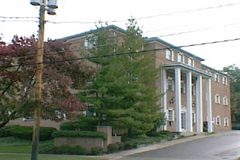 Henry Brevoort's house was built at 3620 North High Street, behind the original Brevoort cabin. The house continued to exist until around the 1970s, when it was torn down. The Brevoorts had an 80 acre farm; Developer Charles Johnson purchased the farm in 1909, and planned the Northmoor neighborhood carefully. He had the idea that vacant space induced people to build a nice house. Accordingly, he platted Northmoor Park and gave it to the city. He also did this with the bird sanctuary that today is known as "the Delta," at the west end of Webster Park.
An early 1970s article stated that "stones still mark the [Brevoort] cabin" and that "once past the field stone gateposts [which were just wide enough for a carriage], the ancient barn where Frank Brevoort once operated a dairy still stands." Does any of this still exist?