Who were Loren and Dennison?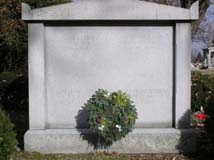 James M. Loren (b. 11/30/1849, d. 2/13/1931) was an attorney who loved real estate. He lived at the corner of King Avenue and North High Street (1371 North High Street) from the time of his marriage to Miss Annabel McMillen in 1878, until his death. He was closely identified with the family of former Ohio governor William Dennison, and handled their real estate affairs; he shared a suite of offices with William's son Herman G. Dennison. Loren laid out, platted, and sold not only East North Broadway but also Dennison Place, Dennison Park, Dennison Summit, and a few other subdivision in northern Columbus and Worthington. Loren's daughter married Joseph Walter Jeffrey. James Loren's mausoleum is in Greenlawn Cemetery, lot 41, section 56. For more information you can read his obituary from the Columbus Dispatch Feb 13, 1936, p. 6A, and his biography from Osman Hooper's 1920 book, History of the City of Columbus, Ohio, pp 453-454.
Herman G Dennison died in 1912 at age 59 in an automobile accident. More information here.
This information came to me courtesy of staff at the Genealogy, History, and Travel Department of the Columbus Metropolitan Library System.
Tags: Evanston, James Loren, N. Broadway