A.B. Graham (1868–1960)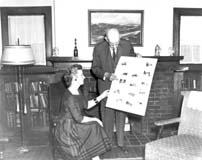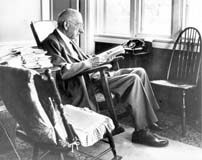 A. B. Graham (Albert Belmont Graham) was an educator from Springfield OH. He had an idea: to get young people together to learn about agriculture and develop skills for farm living. He formed an organization to enable such practical learning. He originally called it the Boys and Girls Experimental Club, and then, the Boys and Girls Agricultural Club. By 1905 there were over 2,000 young people in sixteen Ohio counties participating in Agricultural Clubs. Graham was named Superintendent of Extension of the Ohio Cooperative Extension Service and the clubs were expanded nationwide. In 1916 the Boys and Girls Clubs officially became the 4-H Clubs.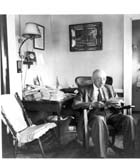 A.B. Graham eventually worked for the USDA in Washington DC. After his retirement in 1938 he moved back to Columbus. He lived in his home on Clinton Heights Avenue until his death at the age of 91 in January 14, 1960. These photos show him at his Clintonville home. Happily, today I live in that very same house.
What do the 4 H's stand for? Well, originally, there were only 3 H's and the insignia was a 3-leafed clover. The H's stood for head, hearts, hands. Then a 4th H was added and the organization's clover became 4-leafed. That last H stood for hustle. But "hustle" didn't stand up to the test of time and was eventually replaced by a tamer "H," that is, health.
(Photos courtesy of OSU Photo Archives, Drawer #213.)
Tags: South of Broadway