Thursday, October 15th, 2015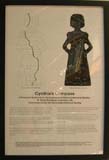 Debbie Shaw, retired CML librarian, recently provided some local resources about the Underground Railrooad in Clintonville and surrounding area. Thanks for agreeing to share this information, Debbie!
Here's Debbie's summary:
This link has a short video as well as text below it from WOSU's Columbus Neighborhood series on Clintonville; both discuss the Underground Railroad.

and this video from the same series on Downtown/Franklinton shows another area involved in the Underground Railroad here in Columbus.

This link is from the Clintonville History site by Shirley Hyatt. The October 2008 issue discusses Thomas Bull and his family and includes a brief section about the Underground Railroad. [Shirley adds: see my book Clintonville and Beechwold here (to buy it) or here (to borrow it) for a smidgen more information.]

Article from the OSU Lantern Feb. 7, 1999.

Historic Marker on OSU Campus.

Another historical marker.

Excerpt from the book The Underground Railroad: An Encyclopedia of People, Places and Operations by Mary Ellen Snodgrass.

For a broader look at the Underground Railroad in Ohio, you can read the full text draft of The Mysteries of Ohio's Underground Railroad by Wilbur H. Siebert here.

And of course, the Columbus Metropolitan Library has a lot of this history. Right now during Main Library's renovation, Local History & Genealogy services are available at a temporary location in the former Whitehall Branch at 4371 E. Broad Street. CML's web site says to call (614) 645-2275 to learn more. You can still get to a lot online at the here.
Debbie also notes, "This material was easily Googled. As a former librarian, I know that there is a lot of info that is not online. By the way, if you do an advanced book search on books.google.com and limit to full text only and content = books, there are quite a few. I put underground railroad in the 'with the exact phrase' field and Ohio underground railroad in the 'with all of the words' field. Laws, history, etc. come up, including Ohio Before 1850 and Ohio History Sketches. Of course, some of it is a very brief part of the book. If you add Ohio into the search's 'subject' field, this narrows it a lot."