Wednesday, November 5th, 2008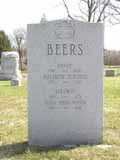 David Beers was another early pioneer with an exciting life story of having been captured and released by the Native Americans. Beers came to Ohio in 1802. Descendents of David Beers still live in the area to the present day. (Photo courtesy of Terry Miller)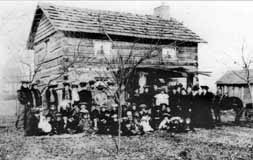 Beers had a log house near the intersection of Dodridge and North High Street. The cabin still exists but has been moved to Norwich Avenue. This photo appeared in the December 29, 1904 Dispatch, on the house's centennial. The people included friends, relatives, and associates of the cabin's next owner, Conn Baker, and they were reminiscing with him about early Columbus and marking the 100th anniversary of the cabin after the its move and reassembly to E. Norwich.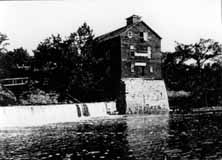 The Beers family operated a mill which existed until the early twentieth century. For many years the father of the well-known poet John James Piatt operated it. The future poet spent his boyhood days playing about the mill, and some say that the impressions made by its surroundings found expression in his work. The mill was considered to be one of the most picturesque spots in Ohio. Built around 1810, the mill burned in 1902.
There are still vestiges of the mill (foundation stones) below North Street, at the river.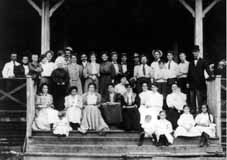 The reason for this gathering is unknown, but it includes several Beers descendants (and likely many who are not related) and was taken about 1905, probably at Olentangy Park. (Photos courtesy of Marty Cottrill)