August 29th, 2008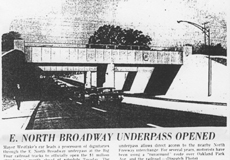 For the residents of East North Broadway, widening their roadway has been a seemingly endless struggle of defending their property against City Hall. Joyce Schatz–for many years an officer in the East North Broadway Street Association–has kept an archive of the issue, and I've linked to it here.
The city claims the right of way is 100 feet. Some research shows that it is 70 feet. Residents' deeds and surveys are all over the place. Some have 15' listed, many don't, including recent purchasers. The majority of the parcels at the end of the street do not have the 15' easement in their deeds. The deed to Steve and Ann Wilson's home (one of the three slated to lose their yard), specifically includes the footage and states "…Together with the Fifteen (15) feet off the North Side of East North Broadway vacated by resolution of the County Commissioners of Franklin County, Ohio, on October 7, 1952."
For those of us who don't live on East North Broadway, the issue is less "Can the City do it?" but "Should the City do it?' For the time being, the city is not actively pursuing the widening.