September 19th, 2008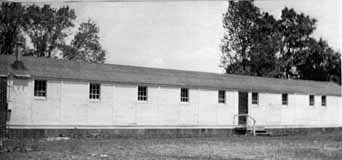 Our Lady of Peace is another church that met in the Beechwold Theatre before their building was erected.
The new parish was decreed on January 17, 1946. In the earliest days, weekday masses were said in the apartment of the new pastor, Father George H. Foley. Sunday mass was held in the Beechwold Theatre and later, at the A.A. Schroyer funeral home (now Weir Arendt). The church purchased land on the northeast corner of Dominion Boulevard and N. High Street, which at the time contained two buildings: an old farm house that was torn down, and a second building that served as a rectory and convent. The first church consisted of a barracks (side view of which is shown above) obtained from the Army Supply Depot at Marion. Prisoners of War constructed the kneelers. A double barracks was used for the first school, which opened September 3, 1947. An old mobile voting booth was used by the nuns as a kitchenette.
It's customary for Catholic churches to build a permanent school first, followed by the church. Cornerstone rites were held in 1951 and the school opened in 1952. The present church was built in the late 1960s. (Photo from Our Lady of Peace dedication brochure)