September 26th, 2008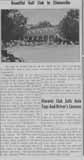 In a previous post, I mentioned getting a call about a golf trophy for Indian Springs Golf Club.
That same day, I happened upon this history of Indian Springs Golf Course, from The Booster, Friday, December 1,
1939, page 9-B.
In a nutshell:
–The land was originally part of the Dyer estate;
–Golf Course was laid out with 152 acres in 1926;
–Ground was leased by Herb Bash (who, I should add, later opened a driving range called Bash Golf on Dodridge–which he later sold to Chem Abstracts–and then opened a driving range in Dublin on Riverside Road);
–In 1938 the golf club became Overbrook Country Club;
–The first clubhouse was on North High at Cooke Road
–By 1939 the club was open year-round, catering to parties and dances.