J. Harvey Zinn & his "Innocent Lamb" Lillian
The Zinn Lumberyard is always interesting; many people I met while researching my book remember it, yet I have never seen pictures of it. James Wells, long-time resident of the Olde North Columbus community has an abiding interest in it and has shared a couple items about the Zinns.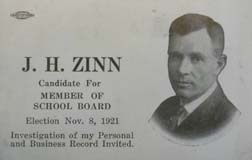 The first is a business card for Mr. Zinn when he ran for the school board in 1921. We're not sure if he won or not, but it would be interesting to find those records. Don't you love the directive, "Investigation of my Personal and Business Record Invited."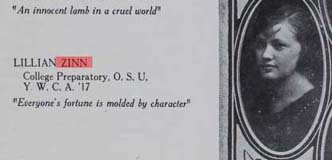 The second is Mr. Zinn's daughter Lillian's graduation photo from North High school in 1920. She was described as an "innocent lamb in a cruel world."

You'll find more information on the Zinns here.
By the way, James says he is "always interested in anything to do with J.H. Zinn and would appreciate any info about him and his family (or related subjects like his lumberyard, the North United Methodist church, where the family members were life-long attendees) or the Herron/Thornton families who lived across Tompkins street from the Zinn's.
[Thanks for sharing these images, James!]