Indian Springs & Wyandot Golf Courses–Aerial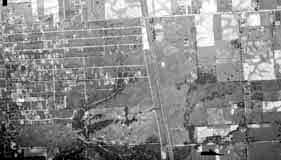 I've received several inquiries about whether I've ever encountered a map of the Indian Springs Golf Course. I haven't, but would be interested in posting a digital copy of one on this web site.
Any former caddies out there with maps or golf course photos?
Bill Case, golf-course historian, sent me this 1938 aerial photograph of the land that is Wyandot Golf Club (top left corner, under the "1938"; you can see the ravine bisecting the course) and Indian Springs Golf Course is in the bottom left corner.
Bill says, "The attached is an aerial photo of Wyandot Country Club that I obtained from the county auditor's office. The course is a couple of inches [i.e. inches on the original photo] directly below the June 15, 1938 notation on the photo. If you zoom in, you can make out pretty good detail of the holes. Morse Road is the lowest (or southern) boundary of the property. The driveway that winds its way straight north from Morse and then curves right or east toward the clubhouse is still there in use at the Deaf School. The trees and ravine divided the two area of the golf course."
Between 1937 and 1980, the U.S. government–typically the USGS, BLM, or military–regularly took these aerial photos. They are impressively high resolution and lots of historic land-use information can be gleened from them. Original paper copies are available at the Office of the Franklin County Engineers, the Franklin County Auditor, and elsewhere.