Gordon Brevoort's Clintonville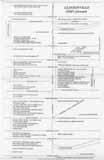 In another post, I mentioned that Gordon Brevoort had given a presentation to the Clintonville Historical Society on the history of Clintonville. He also made a map of the community as he remembers it in the 1930s.
You'll find other information on this web site about the Brevoorts by clicking here.
(Map courtesy of Gordon Brevoort and the Clintonville Historical Society)
Tags: Brevoort family, Clintonville Historical Society collection, South of Broadway