Floor Plan–3100 North High Street
The building at 3100 North High Street, originally Clinton Chapel and presently a funeral home, was converted into a residence in the late 1800s by Mathias Armbruster. Leeann Faust's mother–a descendent of Armbruster–sketched out "before and after" floor plans for 3100 North High Street, from memory. "Before" represents the floor plan when Mathias Armbruster lived there. "After" is the floor plan as modified by subsequent resident Uncle Jack Sullivan ca. 1920. The second floor was converted into apartments. I'm including both Leeann's mother's first draft, and her "cleaned up" versions.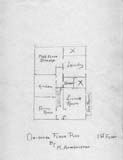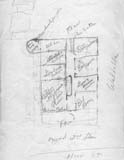 These are the floor plans after Jack Sullivan modified the residence. The 2nd story had been converted into apartments and aren't shown here.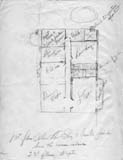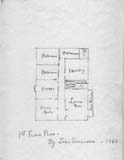 (Photos courtesy of Leeann Faust.)
You can search this site for "3100 North High Street" or "Armbruster" for more pictures of this building.
Tags: Clinton Chapel