Fire at Zinn Lumber Yard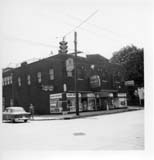 I've previously reported that the Zinn Lumber Yard, located at 19 East Hudson Street, burned down.
It burned down on November 8, 1925, and the fire destroyed the planning mill, storeroom and lumber supply. The fire also damaged several nearby homes and church. The lumber yard was rebuilt in the same location however, and Scott Caputo at the Local History and Genealogy Department of the Columbus Metropolitan Library was kind enough to send me several article about the business. The cause of the fire was not known. [Courtesy of Scott Caputo, Local History and Genealogy Department, Columbus Metropolitan Library]
The photo above shows the "new" showroom [Courtesy of John Clark, by way of his wife Lauren Clark].