Elephants Lumbering Along N. High St.!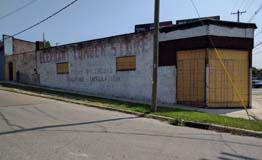 Several weeks ago I wrote about the ghost signage underneath the former Crestview Market's facade (at the corner of Crestview and North High Streets). From 1926 to 1945, the building held automobile-related businesses–but after that it was, from 1946-1967, the building served as the Elephant Lumber Store.
The lumber yard's signage is now exposed:
ELEPHANT LUMBER STORE R[]
Paint-Hardware-Tools-Wallboard-Roofing-Insulation.
One passer-by wondered whether it was named that because of the proximity to the Olentangy Park which had closed 10 years before. I have no idea but loved seeing the vestiges of the Elephant Lumber Store anyway.