D. H. Bradley, Veterinarian
Jan Bradley Zenisek shared these two family pictures with me. Her father, Dr. D. H. Bradley, operated his veterinary clinic on the ground floor of the home originally built by Henry Cooke and shown in my book and here. The Bradley family lived upstairs.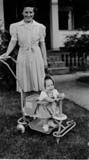 The photo on the left shows Jan's mother, Ellen May Bradley, with Jan in 1941.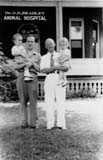 The picture on the right shows Jan's father (Dr. Bradley) holding Jan's cousin Neal Cooper, and Jan's grandfather George Cooper with Jan, outside the clinic/house in 1943. (Photos courtesy of Jan Bradley Zenisek.)
The house was later destroyed to make way for a car dealership. Jan salvaged the lovely arched windows and they now adorn her Riverlea home.
Tags: Cooke family, Maple Grove Area