Friday, September 19th, 2008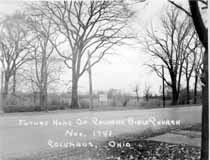 E.A. Fuller was a prominent Clinton Township horse trader at the turn of the century. I found the Clinton Township records for the late 1800s and early 1900s, and his name was frequently mentioned as buying or selling horses. I assume that the so-called "Fuller Farm"—where Calvary Bible Church, Whetstone Park, Clintonville Women's Club, and The Church of Christ, Scientist are today—once belonged to this man. (Photo courtesy of Calvary Bible Church)
The vacant farm has been put to many uses. During World War II, the land used for victory gardens. (There were also victory gardens near Riverside Hospital.) Children put the area to their own purposes, scrambling through the undergrowth and playing by the river.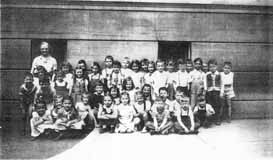 Many long-time residents recall a family that lived in the farm house—some have called it a log cabin, others say it was a chicken coop–of the old Fuller Farm. Some say the family was partly Native American; others say partly Romani; in any case, the family's race added to their mystique and exoticism in the minds of the Clintonville children of the time. The family's surname was Windsor; Mr. Windsor was a professor at OSU, and many of the people fondly recall daughter Zolithia [or Zelitha] (back row, 4th from left) and her brother Romanus (3rd rw, 2nd from right).
During or shortly after World War II, Rand Hollenback (founder of The Booster) lobbied for remaining land to be converted into a park, and the City of Columbus purchased the 161 acre farm. It became Whetstone Park. From early on the park has included a casting pond, softball diamond, tennis, picnic and playground, and archery field.