Wednesday, July 15th, 2015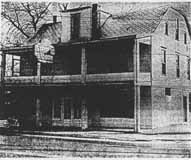 In my book, I have a wonderful photo of the inside of Stop 18, an interurban stop containing a mom-and-pop grocery store. Located at approximately 5534 North High Street, it reopened in 1934 as the Stop 18 Inn, owned by Jacque Criticos. The tavern continued to operate until it was sold to Hudson Oil in 1968.
According to the Dispatch's Johnny Jones, canoeists from the Olentangy Canoe Club (presumably the one located in Olentangy Park) used to row their canoes from their clubhouse up the river to Stop 18. That location on the river also served as a popular skinny-dipping location.
Three fun articles are attached:
An announcement of its opening, in the Columbus Star June 10 1934, p.28
An article about its closing in the Columbus Dispatch January 28, 1968, p.21a
An article about its naming and history in the Columbus Dispatch, January 29, 1968 p.3b