Thursday, May 1st, 2014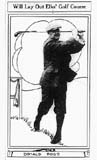 Bill Case has done a wonderful job of researching and writing the history of Donald Ross' design of the Elks/Wyandot County Club. Check out his web site here. It's a work in progress so check Bill's site frequently.
The first picture (to the left) is, of course, Donald Ross. In the left-hand image below, Harold J. Kaufman, John W. Kaufman, Arthur Shannon, Donald Ross, and J.V. Taylor peruse a topo map. The right-hand image below is the 5th hole–308 yards–par 4. See Bill's web site for the history and for more image gems.
(Images courtesy of Bill Case and Betty Huber)