Tuesday, September 30th, 2008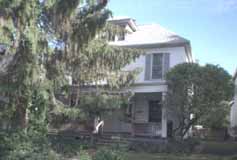 Back in 1910, this address served as a home for children.
First of all, in case you are wondering, there is currently no 218 Jason Avenue or 218 W. Pacemont. Pacemont Avenue was originally called Jason Avenue. The area where the orphanage stands was outside of the Columbus City limits in 1910 & 1920, during many of the years when it operated as an orphanage. When the western end of Jason/Pacemont was added as the "the Aldrich's Riverside addition," the house numbers were adjusted to compensate for all the new lots. The current address is 56 West Pacemont.
The boarding house/orphanage/nursery was run by Judiah & Mary Ella Throps (sometimes spelled Throp or Throop). Judiah was born in 1844, served in the Civil War, and died in 1913. (His occupation was listed as "Painter" and also, in 1910, as "Nursery." Mary Ella was born in 1865, and died in 1933. (Her occupation was listed as "Housekeeper" and occasionally "Nurse".) Both are buried in Union Cemetery.
According to the 1910 Census, the Throps had one 7 year old son living with them (son Ernest Throps). Mary was at the time 45 years old. They also had 12 young boarders living with them, all under the age of 6 and many just babies.
By the 1920 Census, Judiah had passed away. The 1920 census states that Mary (by this time, age 55) had 3 children living with in her household: Earnest Throps (age 16); William Throps (age 9), Mabel Leonard (a servant, age 29) and Glendus Leonard (age 5, listed as a boarder). (I can't help wondering whether there were additional boarders, not listed by the census taker.)
By the 1930 Census, Mary was 64. By this time she had quite a few extra living companions: William Throps (son, age 19), Richard Throps (adopted son, age 4), Helen Gatewood (servant, age 22), Jeanne Paden (8), Oswin Poletzie (7), Shirley Poletzie (3), Elva Waton (18), Marie Obrien (6), Charles Jordan (6), Mick Tudor (3), Virginia Adkins (2), and Algie Donaldson (2).
This research was conducted by Scott Caputo of the Columbus Metropolitan Library, Main branch, Geneaology, History, & Travel Desk. We are so glad he discovered this history. Scott had a library client who knew that their grandmother had a child out of wedlock in 1910. The grandmother had put the infant in an "orphanage" located at 218 Jason Avenue, where he died shortly afterward. The infant was Harry White and is included in the 1910 census in a list of around a dozen "boarders" at this address. All are under 5 years old.
Here's a directory of the source material used for the above information, and also linked to above:
Sanborn Maps
Censuses
Business Directories
Death and Civil War Records